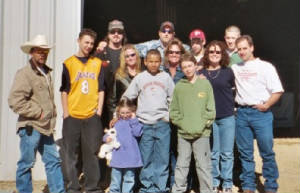 Shipwreck crew - February 2005
Handsome's friends own an excavating company which was a sponsor of bull-riding in Berthoud. Our friend Chad is crazy enough to participate in bull-riding and so we would go up north to watch. The whole "Shipwrecks" crew created a big convoy up to Berthoud to watch Chad go after his 8 seconds. I think the longest he lasted was between 5 and 6, but it was always a sight to watch him on one of those big old bulls!
Handsome and I got engaged in February 2005. We took a trip 2 weeks AFTER the engagement to Las Vegas, where I attended the
Women of Faith
national conference. It was funny because Handsome's
mother
flew out to Vegas at the same time, thinking we were going to get married on the sly! I said no, Vegas weddings weren't my style, but I'm glad she was there to hang out with Handsome while I was in the coliseum with the WOF conference. It was a little weird, having "Mom" in town while we were, but she wasn't a nuisance or anything so it wasn't too bothersome. Handsome didn't win the big bucks, either, so we ended up having to fly back to Denver and go to work on Monday.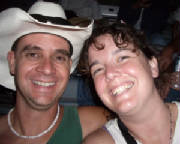 That first year together we saw a lot of concerts, I mean A LOT. We went to Toby Keith with Terri Clark, Sara Evans with Alan Jackson, Dierks Bentley and George Strait, Pat Green and Gretchen Wilson with the totally adorable Kenny Chesney, Tim McGraw with the lovely Faith Hill, and Big & Rich who rocked Cheyenne.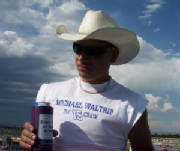 We went to a Busch series race at the Pikes Peak International Raceway. Wow, was that loud! Handsome is a die hard Michael Waltrip fan, God bless him. Poor Waltrip hasn't done much lately but maybe this will be his year. The little racetrack down in Colorado Springs hosted its last race in 2005 and we were part of history. We enjoyed the atmosphere so much that we made plans to go to a real Nascar race in Martinsville, Virginia that fall.
We visited my girlfriend Celia and her husband Bronson in Raleigh, North Carolina in October 2005. It was really important to me that Celia meet Handsome and vice versa. The great thing was that they instantly liked each other and had the other laughing in no time. That was huge for me, because of course I love Celia and Bronson, and of course I love Handsome, so to have them click on their own was AWESOME!