What a blast! We flew from Denver to Seattle Friday morning and got to our cruise ship and were just floored at how gigantic that ship was! Wow! We checked in and found our room and compared to the whole ship, the room was like a closet but it was absolutely perfect for us! Our room was located kind of near the front part of the ship.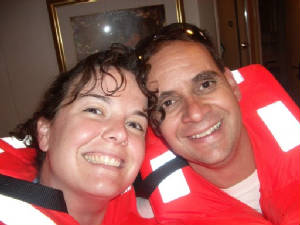 We had to do an evacuation exercise as soon as all the passengers were on board. Here we are in our floaty couture. Styling!
As soon as we figured out which decks had the pool and where the restaurants were located, the ship pulled out of the Seattle dock. I almost peed my pants when the horn sounded, it was SO LOUD!!!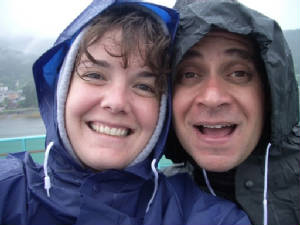 We were at sea for a whole day before we saw land again in Juneau. Everything is so green up there and they say it rains for 220 days a year up there! Colorado has 300 days of sunshine, but Juneau is WET. We didn't care, though (must be because we were honeymooning!)
We pulled out our rain ponchos and prepared to tackle the great town of Juneau. We didn't plan any cruise-oriented excursion in Juneau except to go see the glacier. I'll have to track down the pictures we took of that. It was pretty amazing, and I was just in awe of how much ice is out there.
Of course, as you tour around Alaska, you tend to get hungry and thirsty. We sampled Alaska's micro brew selection and found it very yummy! This was a bar called the Red Dog Saloon in . . . (Honey, help me out here, where was the Red Dog Saloon?) and they had a live piano player belting out these old rag-time tunes. They also had a very special item close to Handsome's heart - the very gun that Wyatt Earp held and had to turn over to the bar owners because, in that day, they had a strict "No Pistol" policy.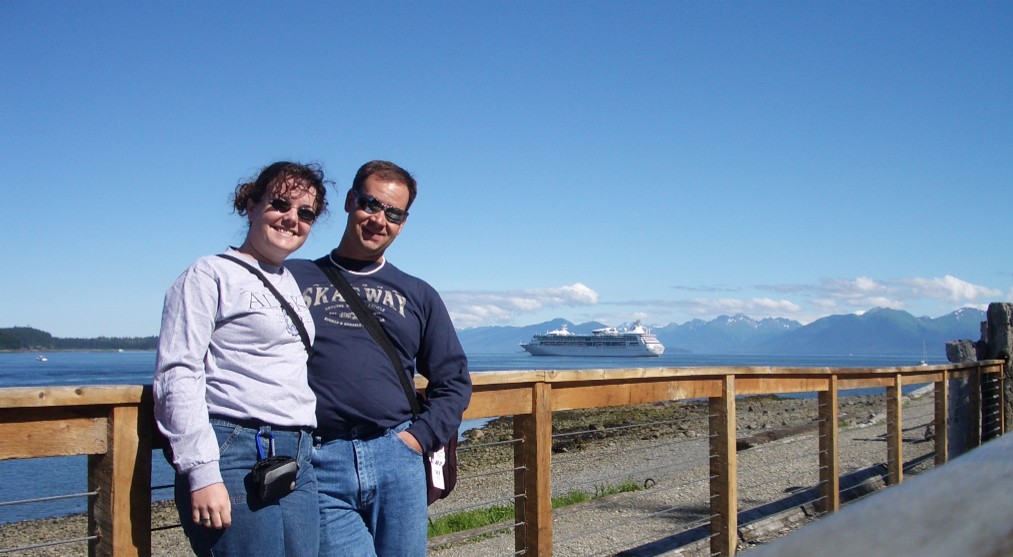 Royal Carribean has ties to a little fishing village called Hoonah. They are the only cruise ship that stops at this point, they named it "Icy Strait". There used to be a cannery operating onsite but now it's a small museum and, of course, shopping place.
Isn't this picture just beautiful, though? Wow. So Handsome and I hoofed it around the forest and walked the mile and a half on the road to the little town of Hoonah (a quaint little drinking village with a fishing problem). We saw the most amazing bald eagle flying and then diving to get a fish. We were totally in awe. We stopped in a church where the little old ladies were frying up frybread and bought some to munch on. We walked all over town (it wasn't that big, really) and found an awesome restaurant where we ate whole crabs. YUM!